I was over the moon when Alex Mustard's email arrived in my inbox. I'd hoped that a couple of my images might be placed somewhere in the inaugural year of the Underwater Photographer of the Year photography competition but I never expected this result. The diving gannets have done it again, winning the British Wide Angle category whilst a cheeky puffin and a tiny hermit crab have been given Runner-Up and Highly Commended in the British Macro category; combined, that result has also meant I've been named British Underwater Photographer of the Year, 2015.
As if that wasn't enough, after about 20 minutes an email arrived in my wife Polly's inbox. I'd only mentioned the competition to Polly about 48 hours before the deadline and the fact it had a British Compact category. Polly decided to enter and we quickly sifted through her image collection, picking out a dozen or so of our favourites and uploading them to the competition website – note this is not usually how you should approach entering a competition… But not only had Polly been awarded Runner-Up in this category, she'd also had three Highly Commended images and one Commended, taking five out of the ten category places. Needless to say a bottle of wine was opened soon after. Unlike my images which were all taken in Scotland, Polly's were taken in Cornwall, Dorset and Scotland proving that there can be good photographic opportunities wherever you are.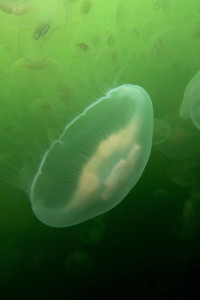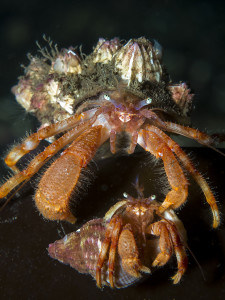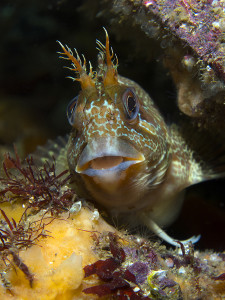 It was great to meet everyone at the London International Dive Show yesterday and put faces to many very familiar names. What really struck me though was the amount of organisation that had gone into making this competition happen. Alex Mustard and his team have clearly gone to great lengths to put this together and make it work and have done so exceedingly well. When Alex showed a slide show of a selection of shots including many that didn't make the final cut, you could see what a tough task he and the other judges Peter Rowlands and Martin Edge had faced – the standard was jaw-droppingly good and there should be no shame in not being placed.
Dan Bolt did a fantastic job of producing the exhibition prints and building the competition website – it has to be the easiest, quickest and most functional competition website I've ever used. And Alex's wife Eleonora had clearly been working tirelessly behind the scenes and among many other tasks sourced some beautiful trophies for the main winners.
Thanks to the sponsors too, namely DIVER magazine, SCUBA travel, Nauticam, Apeks Regulators, Fourth Element, Underwater Photography Magazine and Magic Filters. Without this sort of backing, bringing together such a world-class collection of images would have been a near-impossible task I am sure.